August 2nd, 2015
My father and I sailed up the St. George Sound and arrived in Carrabelle around 14:00.  Docking at the legendary C-Quarter Marina.  Upon our arrival we noticed there happened to be a huge King Mackeral fishing tournament going on, with a raffel and luncheon.  Avoiding the initial crowd, we took a stroll down to Fathom's Steam Room and Raw Bar for some more of those delicious Apalachicola oysters and smoked mullet dip!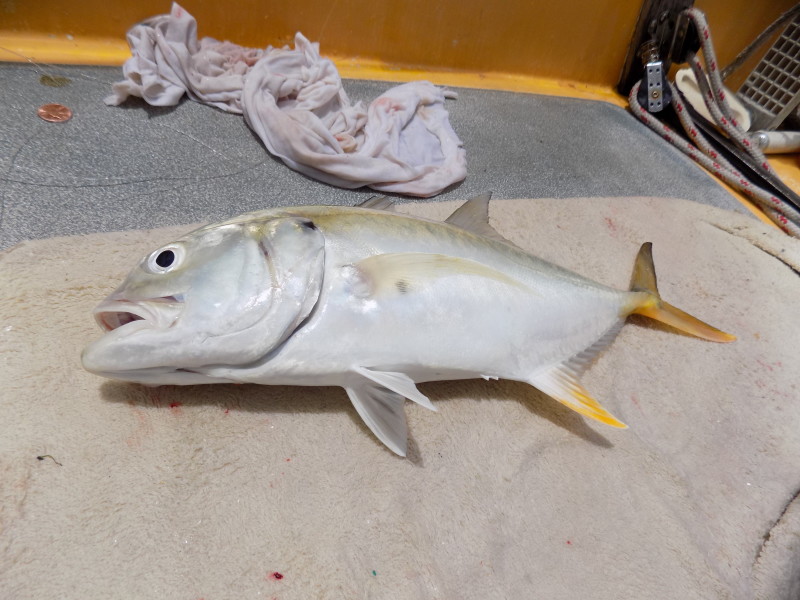 Coming back to the marina we spent the rest of our evening on the big wooden patio chatting with locals and watching the tournament boats come in with their catches.  We met a couple aboard a power cruiser named "Black Pelican" with the same logo and font as our local restaurant in Kitty Hawk, NC.  The owners of the vessel, having vacationed along the Outer Banks for years, simply enjoy the restaurant and love it enough to name their home.
August 3rd was full of bad weather.  Two big fronts passed through with heavy winds, lightning, and white-out downpours.  Spending the day relaxing around the marina and a light grocery shop was about all we could do.  While sitting on the big covered patio at the marina, an employee approched my Dad.  He handed him a big industrial cooler with the winning raffle ticket inside! Not getting any reception in town, he missed the winning phone call. Senior was shocked, only purchasing 5 tickets the day before, his luck was slim.  But did he sure let every person in town know that was his new cooler!
Carrabelle, founded in 1877, was first recorded in Spanish explorations in 1528.  Still just a small town with about 1,200 year round locals.  The last port on the Gulf Intracoastal Waterway when headed east-bound.  The Carrabelle River runs through and empties out into the St. George Sound, out to a couple of barrier islands along the Gulf of Mexico.  Honostly a diamond in the rough on the "Forgotten Coast".  Houses are small, properties are large and coastal, businesses are locally owned and run; a true American area.  It sure is nice traveling along such a pristine coastline, while many Americans do not take the time to experience the secrets hidden not too far from home.