5/18 & 5/19
After hiding out some foul weather in Delcambre for a few days, our weather window was looking good to set sail again.
Going for a long stretch today, we have a few anchorges marked on the charts just incase we want to stop moving at some point.  Wax Lake Outlet was our choice to stop and spend the night, a fat canal off the GICW, hidden amongst the live oaks lining the water were a few decrepid fishing shacks. As soon as we pulled down the canal the current picked up to over 3 knots!  With all the heavy rain hitting the area lately, the water has been flowing hard with higher levels.  I went to the bow to get our ground tackle ready, said hello to a friendly gator as Claire brought us about, bow upstream.  We both instantly felt uncomfortable anchoring for the evening in this location.  Scattered deep spots, drifting debris, and a gaining current was not very welcoming. With sunset approaching, we got out of there quick, back onto the GICW towards Morgan City.
There is a drastic change of night and day along the GICW.  We have been purposely sailing only during daylight hours.  The tugboats and barges are massive and need miles of clearance to make turns and bends.  Lights from the shore, towns lining the water, confuse your eyes quickly, especially when you've stared at the horizon since sun-up.  After 56 miles at 4 knots, we were ready to be done with our day.
A few scattered tugboats chugged past us in the dark as we radiod the train bridge to stay up for us.  Scooting under that with Claire at the helm, myself at the bow, we could see the Morgan City Docks.  A very welcoming site, a couple night fishing on the dock where some shrimp boats were tied off.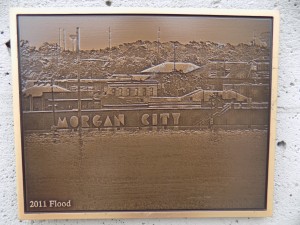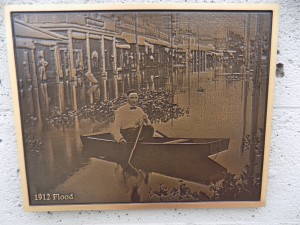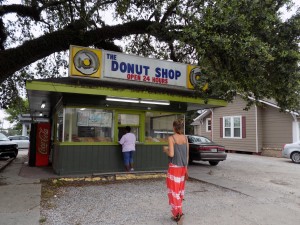 A great nights sleep after a full day on the water.  Coffee on, short walk to a local donut shop, and right back to start up the outboard.  Eastbound early, towards Houma city docks.  Another day on the water, this time through cypress trees.  Lining the waterway like a citadel, these old giants provide a beautiful protection from the thunderstorm fronts that keep rolling through.  Keeping the wind gusts down, all we have to deal with is the pouring rain.  Rings from the drops hitting the green water around us lead the way to Houma.