May 15-17, 2015
When most think of Lousiana, the common thought seems to be New Orleans.  Which is a great city, no doubt, rich with it's own history and cuisines.  Although, in the heart of Cajun Country, Delcambre (pronounced del-come) is a true Acadiana paradise.  Hidden from tourists by Vermillion Bay shrimp fleets and bayous, with a population just over 2,000; this area is truly rich with a unique background.
Winding our way up Bayou Petit Anse and Bayou Carlin, we were greeted by T-Boy at the North Pier Marina, a true cajun tongued New Acadian.  As soon as the dock lines were cleeted off, we were on our way to the grocery store.  Hospitality is nothing but an afterthought in this area.
The Acadiana region of Lousiana takes up most of the southern part of the state, west of the Mississippi river.  Also known as Cajuns, this distinct group of people is quite special.  From their French based dialect to their passionate cuisine, we definitely found a new favorite.  Their Canadian ancestors were exiled by the British and New Englanders back in the 18th century, during the French and Indian War.  Seeking refuge in the south, blending with Creoles and Native Americans.  The area rich with waterways, seafood is king here, along with sausages!  Their cuisine stands out, worthy of appreciation seperate that of popular New Orleans. – Michael
Claire having family in the Lafayette area, we gave them a call.  Joe and Camille came down to the marina to pick us up for a lunch date.  We ended up touring two historical gardens!
Starting with a fine meal at Cafe Jefferson, then touring the Rip Van Winkle gardens and Jefferson Island Mansion.  First off, these are not actual islands.  They are salt domes, rising up about 70′ above the surrounding bayous at sea level.  Below are massive caverns of salt, once heavily harvested.   Jefferson Mansion, hugging up against Lake Peigneur, was built in 1870 and purchased by Joseph Jefferson.  Touring the country as an actor, his role as Rip Van Winkle, adapted from Washington Irving's tale, made him quite successful.  After his passing in 1905 the property was purchased by John Lyle Bayless.  Mr. Bayless sure did have a green thumb, the 25 acres of gardens boast plants from around the globe! Back in 1980, Lake Peigneur underwent a very unusual man-made disaster. An oil rig accidently tapped into the Diamond Crystal salt mine below the lake, creating an immense whirlpool.  Barges, boats, trees, were all sucked into the cavern; the local waterways flowed backwards into the pit! No injuries and No deaths!
Later that afternoon we all hopped back into the car and headed about 15 miles away to another "island".  Avery Island is another salt dome in this area.  Most know of it for the popular Tabasco Factory.  In fact, this salt dome supplied over 22 million pounds of salt for the Confederacy during the Civil War.  The Mcllhenny family, of the Tabasco factory, set up the Avery Island Jungle Gardens starting back in 1895. Another local with a green thumb, this area serves as a bird sanctuary with international gardens and wildlife abound.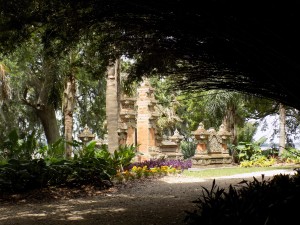 We had a great day off the boat with Claire's family. One of the special things about living aboard Splendid Isolation is the fact that we are constantly changing environments.  Joe and Camille taught us a lot about their area in just one afternoon!  We sure do appreciate the hospitality when coming through Lousiana.  Thank you again.