May 6 – 9, 2015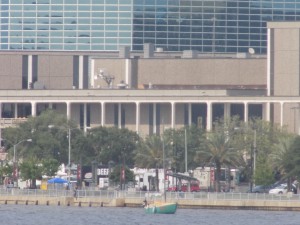 Set our anchor 14:00 just off the Convention Center in Lake Charles, Louisiana.  Quite a way off the GIWW, about 6 miles to the North.  We came up here for provisions and there is a West Marine a 2 mile walk into town.  Staying on anchor, which is free, is our preferred way to spend the night.  Marinas are nice in heavy weather, but honestly being in a good anchorage can be just as comfortable.  Here we were, 100 feet from the Marina for free, choices like this helps stretch our money just that much further.
While at Peggy's on the Bayou we ordered a new masthead light, and had it shipped to the West Marine.  This is new for us, and quite nice, to be cruising in America with the possibility to shop online and have items delivered ahead of us.  The masthead light is a 360 degree white light, visible to a minimum of 2 nautical miles, letting other vessels know that we are tuckered down for the night.  Claire, my little bosun, has been up the mast a few times lately working on the wiring of this new light.
While in town we splurged on a nice lunch at "La Truffe Sauvage".  Claire and I both really appreciate classic French cuisine.
The grocery store, about a mile and a half away, was another great afternoon walk.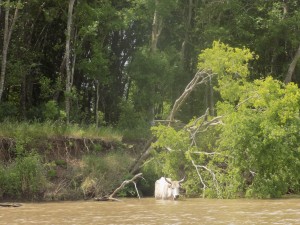 Lake Charles holds a lot of history.  With good export location for Texas and Mexico, the city's lumber industry used to dominate the area.  Many Victorian style homes are still present.  With a small, clean downtown, this area hosts all sorts of events for the locals.  A devasting fire took over the waterfront area back in 1910, rebuilding quickly, their population peaked at around 80,000 in the 1980s.  Casinos and resorts have helped keep the area functioning in these modern times.  2005, Hurricane Rita's storm surge effected the low lying city and surrounding towns. We were warned by locals that the water quality is not to be trusted, due to the fact of a Citgo plant oil and chemical leakage back in 2006!  This devastating mess sky rocketed oil prices and made for quite the clean up job, spreading into the Calcaseu River and it's other outlets.  Thank the Coast Guard for their attempts to swiftly clean up the mess.