May 23 to 28, 2015
Claire pulled up our anchor around 7:30AM and we motored out of Bayou Bienvenue towards the Rigolets.  Just as we head up on the inlet, a "6 pack" (tug boat pushing barges two wide by three long) comes into view off the bow.  He's rounding the turn when a hard SouthEast wind kicks up, pushing his bow towards us.  I radio contact to confirm all is well and that he sees us passing him port to port. He was definitely stressed out trying to get that massive set up out of the Sound and into the protection of the GICW.
Coming out of the Intracoastal waterway, we were spit into the Mississippi Sound.  With 20+ knot winds kicking up off our bow, we were forced to lower the mainsail and raise our working jib.  We have found that Splendid Isolation bashes upwind quite well flying only jib. With the sail trimmed tight and a heavy hand on the tiller, we rolled over 3 ft short period swell.  After tacking (zig-zagging) up-wind, inside the shipping channel for depth protection, who knows how long, it was time to find a safe haven.  The closest marina was 10 to 15 more miles to our east, which in those conditions would have been like 4+ hours. not worth it, so with a quick inspection of our charts we noticed a small cut off the entrance to the Pearl River. Dropping anchor 15:00 in a canal just east of a RailRoad bridge.  A lot of current and wind.  Protected though by 1/4 mile of marsh grass. No towns, no shore landing. Stranded in a blow.
Surrounded by marsh grass and big dead trees, the crew sat aboard our little home for 3 days and 2 nights.  Constantly checking the conditions out on the sound through binoculars. The Pearl River is the border between Louisiana and Mississippi, so by anchoring on the east side, we had officially crossed state lines!
Ship's Log entry 5/24
"To be trapped with limited food and water is quite rare in this time period.  All we are needing is a sense of safety and shelter from the uncomforting forces of nature. We sit in this canal comfortable yet muggy.  While 1/4 mile to our south is blowing 25+ knots with constant waves rolling. Preventing us from moving in the direction we seek. Dealing with these discomforts of not getting what you want, while getting what you need."
Anchor up at 6:30AM and back out onto the Mississippi Sound. Quite messy and rough still, we headed out the Pearl River Channel.  Turning east, we jib sailed at 7 knots to Bay St. Louis.  Radio-ing the RailRoad bridge operator to let him know we would be coming through.  Another hour in high gusts with black clouds racing above, we were just making it! Claire army crawled up to the bow and yanked our jibsail down as i turned on the outboard motor. Once through the swing bridge, we turned to port and literally surfed into the marina at 10:30AM.  Being a new marina, the breakwall was not complete nor big enough to erase wave movements inside the harbor.  Boats were bucking in their slips and swaying like metronomes.
With a poor layout, these slips only had docks exstending 10 feet out, no nearly long enough to jump off the boat. we had no choice but to slam our bow into the dock.  As our anchor mount whipped up and down vilantly, we continued to ram the dock until we could tie off our overly excited vessel.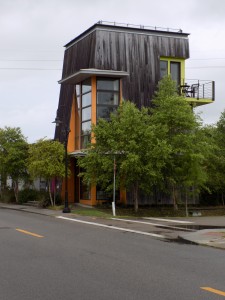 Bad electrical storms with high winds lasted the next two days and nights.  This gave us time to grocery shop and enjoy a recently re-built historical town.  Bay St. Louis was nailed head on by Hurricane Katrina, litterally wiping the slate clean.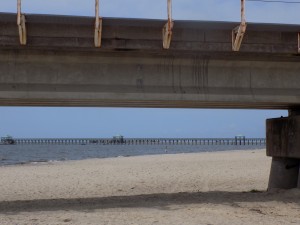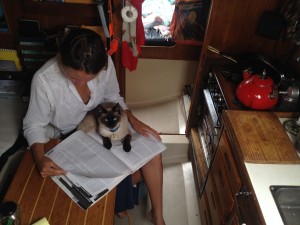 Enjoying our time in Bay St. Louis we researched our path eastward and started to call marinas in Florida.  May 28th we pulled out of the marina around 10AM onto a calm sound.  Leaving the foul weather behind we skimmed across cat's paws at 5.5 knots.