The morning of July 6th, La Sancha was packed up and ready for departure.  Saying good-bye to Claire, I took off south with the kitties.  Driving 1,000 miles in 14 hours, we made it back to the boat in Perdido Key, Florida.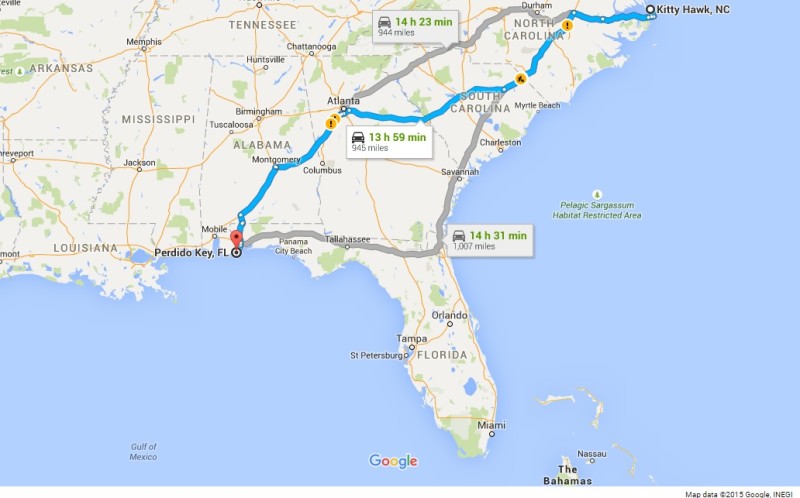 I woke up delirious, covered in baking soda. (We left the boat with all pads lifted, cubby holes opened, roach spray all around, and a light sprinkling of baking soda to top it all off. A dry, mostly bug free boat.)
The ship-cats seemed concerned. With that, I spent the day getting the boat back in order.  Fuel, groceries, water needed to be bulked back up. Navigation, our course eastward had not been charted much past Perdido Key. I spent my evening looking over that.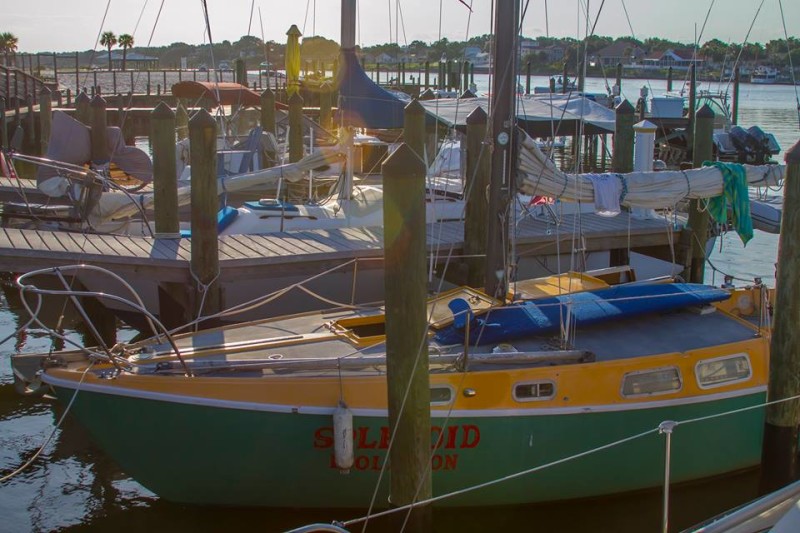 July 8th – We welcome Derek and Travis aboard Splendid Isolation.  I drove our Volvo up to Derek's parents' house in Ft. Walton Beach, to leave there as we set sail.  Derek's Mother gave us a ride back to Perdido Key, blessed our travels, and there we were.
A quick background.  Derek and I had been neighbors for quite a while in Orange County, CA. Sharing a close group of friends and acquantences. Travis, a child-hood and life long friend of Derek's. The upcoming stretch of coastline was familiar to these guys, having spent their youth in the area. Both of them had taken a weekend sail trip as teenagers and were quite excited for the days ahead.
With Claire behind in North Carolina, we figured we could divide and concour.  She playing the role of my sugar-mama; while I continue on as skipper, making more headway east.  The boys offered eagerly to crew.
The 9th of July – Derek, Travis, myself, and Piña sat at the dock, while little Comida China had had enough of all the change and disappeared for the day.  At least this gave us all time to get situated on the boat.
We left Perdido Key the morning of the 10th, with all crew on board.  I thought it would be nice to set our first destination close.  A modest 13 mile sail to Starfish Beach, an anchorage off the GICW near the mouth of Pensacola Bay.  Once we arrived and the anchor was set, we took the dinghy to shore.  The Gulf of Mexico was right there, we decided to play it safe with new crew and continue on the Intracoastal route.  A day of snorkeling the shore line and walking both coasts led us back to the boat for dinner and drinks. No starfish in sight, but plenty of sand dollars.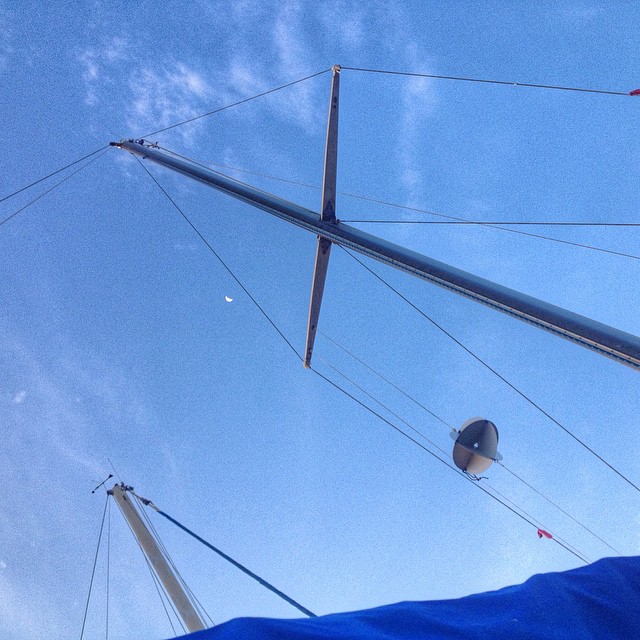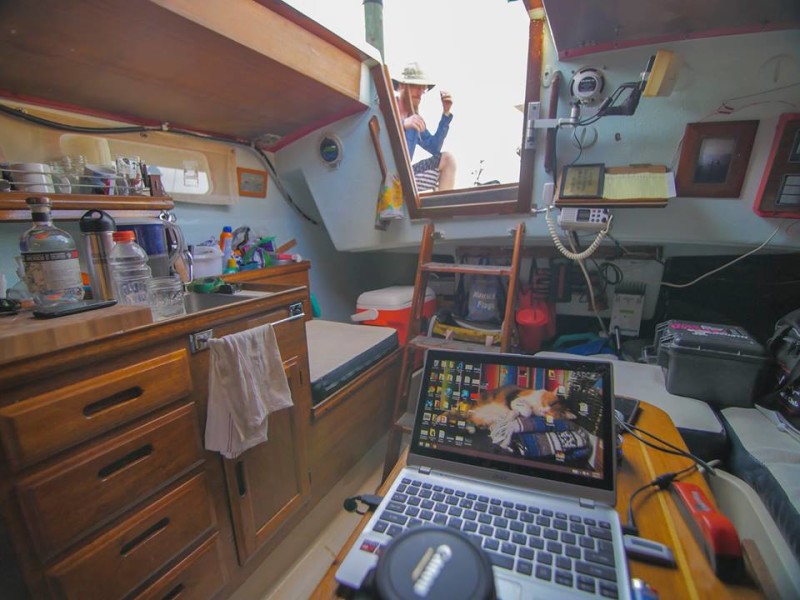 We slept peacfully on that open roadstead of an anchorage.  The rest of our day, we could not say so much.  Overlooking one major event for the area – The Blue Angel's Air Show!  Jeez, who knew so many boats could fit in the area?  This was a stampede, a parade, border line riot, just pure mess in the water.  We had front row seats to a stunning air show. Feeling like young boys, we broke our necks upward and stared in amazement.  The show lasted most of the afternoon and same with the next day.
The guys were quickly adapting to Splendid Isolation.  Small but comfortable, shade is hard to find in the Florida sun.  At times the wind was shifty, light and variable.  Derek and Travis took turns on the helm, finding their wind pockets.  While I dealt with trimming the sails to keep a steady pace.
The Intracoastal was nothing but chopped up boat wake from every shape and size vessel you could imagine.  The coastlines were littered with families and their boats enjoying the ongoing air show.  We managed to survive and navigated our way through.  It was another 20 miles to Navarre.  We found a tight anchorage, close to shore, on the east side of the bridge.  Sounding our way in with the depth sounder, we dropped anchor in about 7 feet of water.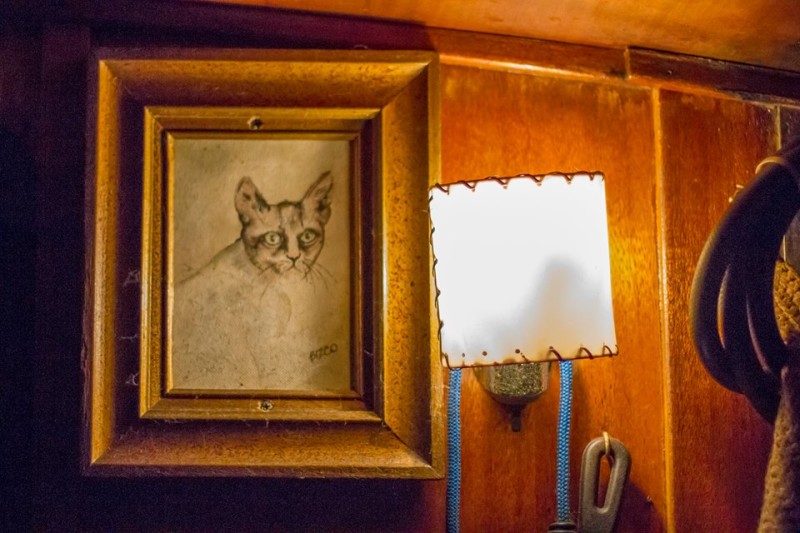 Unfortunately, Travis had to jump ship in Navarre.  A great asset, this one has salt in his blood.  I hope that one day he finds his very own boat.
Derek and I had dinner and drinks at Juana's.  Made our way back to the dinghy, which was being used as a sunset prop in a photoshoot!  A little drunk and confused, we rowed back to Splendid Isolation.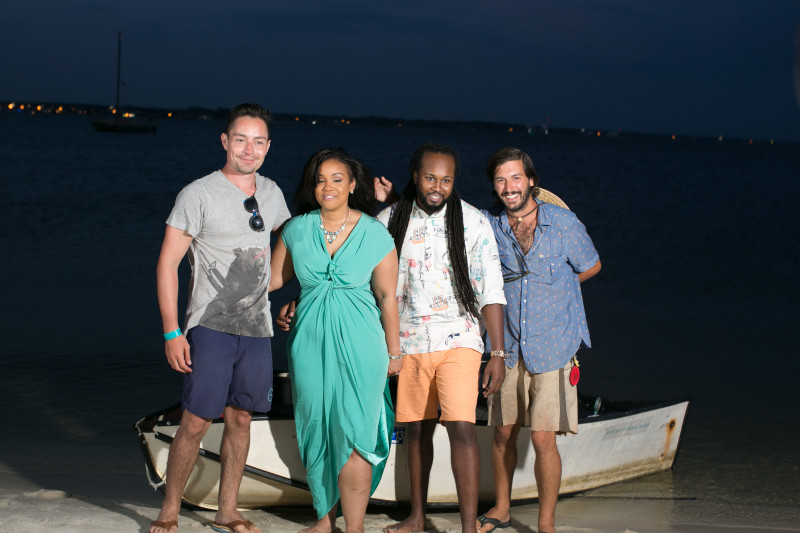 July 12, down one crew member, Derek pulled anchor at 9:00AM and we set out.  It was a breezy day as we sailed 32 miles eastward.  We wound our way through the narrows off Mary Esther, past Crab Island, East Past of Destin, and into Choctawhatchee Bay.  Cruising downwind at a steady 6 knots, we were racing a thunderstorm into Hogtown Bayou.
As we set anchor in this deeply protected anchorage, the thunderstorm blew by.  Derek's newly wed wife, Holly, came to greet us!  We had sailed into an area not too far from Derek's house.
Having just sailed 75 miles without Claire, this was a first for me.  A little nervous to start because we have a system down as we cruise.  We both have our "jobs", which saves on sometimes confusing sailing communication.  With these two young men I was able to work on my patience, as I taught them some basics of sailing.  Sharing those bonding moments together, on a small boat in a big world, is what this life is all about.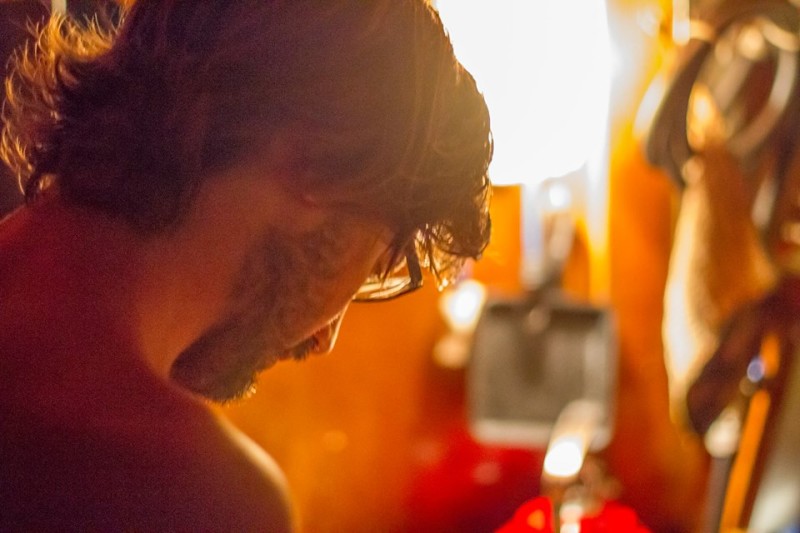 These guys captured a ton of photographs and video clips of our time together.  In conjunction with 20/30 North Studios, a short movie production is on the back burner. In the meantime, a Teaser and a Trailer have been produced. View those on our Video Page.